Rely On Heaton Bros. Roofing Today For All Your Residential Roofing Needs
Residential Roofing Company
Roofing is a subject every homeowner is compelled to know a thing or two about. Taking pride in your home's exterior is as essential as the inside, especially since the roof over your head can be directly related to the quality of living inside. Trying to locate a dependable company to handle your roofing needs can be overwhelming.  Heaton Bros. Roofing can take the anxiety out of your roofing project. As your residential roofers, we take great satisfaction in providing a multitude of services to meet all your roofing needs. These services include installing a new roof, replacing an existing roof, repairing or installing a skylight, or handling all your ongoing roof repairs. From small roofing repair jobs to full roof tear-downs and replacement, we can do it. We'll work with new construction, and we also offer roof inspections for those buying or selling a home or building. Call for your free bid today!
Experienced Roofing Company
Our experienced experts can provide useful advice to help you decide which materials will best meet your needs as well as answer any questions that arise along the way. Choosing Heaton Bros. Roofing as your residential contractor means that the work will be finished right the very first time, with no delays, and with excellent results. As residential roofing contractors, we understand the importance of providing quality products to shelter your home.  We have a selection of asphalt shingles to match any home's exterior. We also recognize each homeowner is unique with their own style. Let us advise you on what we do best!
We recently completed this roofing project in South Jordan. We loved making the homeowner's day & we're extremely happy with the results!
Roofing Company Salt Lake
Roofs leak for an assortment of reasons, including damage from the weather, poor installation, wind damage, loose or rusted flashing, poor drainage, or maybe it's just the end of your roof's lifetime. Whatever the reason, when you call a contractor for repairs you want to be sure you are dealing with an experienced roof repairman. If you're not sure how much of a repair you need, or how old the roof is, we're happy to do a free estimate for you.
Most people are not planning for a new roof and are not happy discovering they need one. We want to make sure getting a new roof is a positive experience. With the best materials, reliable contractors, and excellent service – your roof will be replaced in no time.  Most residential roofing jobs take less than three days. Before our workers begin, we'll order materials delivered to your home, sometimes a day or two before the job is scheduled.  During the roofing, we try to make sure the noise and any inconvenience the project brings are brief.
Call Utah's Residential Roofers Today!
We have Utah's (S-280) General Roofing Contractor License. Insurance for roofers is a serious business, and we know it. We are fully insured to protect your interests, our employees undergo periodic and ongoing training, often focusing on safety practices and procedures. We also maintain membership in the Utah Roofing Contractors Association (URCA) and National Roofing Contractors Association (NRCA) and the Better Business Bureau.
Experienced Roofing Company
Whether you are wanting to replace your existing roof or make needed roof repairs, Heaton Bros. Roofing has the experience you can rely on.
Newest Technology
We stay up to date with the latest roofing products, techniques, and trends to make sure you get the best roof!
High-Quality Construction
No matter what size of roof you need to be repaired or replaced, we take pride in every project and make sure we exceed your expectations.
Reliable Upgrades & Repairs
You can rely on our experienced roofers to provide quality repairs and upgrades. If you're not sure what is needed, we can help you make the best choice!
Re-Roof Or Tear Off
When your roof has reached the end of its life, most people assume their only option is to strip off the roof and start over. Heaton Bros. Roofing considers it an obligation to help give their customers the best value for their money. It is possible for a re-shingled roof to look as good and last as long as a "new" roof for less money and a lot less hassle. Getting an estimate from a certified expert will help you decide the best thing to do. It's important to be acutely aware of the condition of your roof before you make any decisions.  It's essential to understand the pros and cons of covering an existing roof vs. tearing- off the original roof and starting over – let's take a look at both:
Roof Tear-off
This is exactly what it sounds like. Heaton experts come in and tear off your current roof and then replace it with an entirely new roof.
Benefits of Tear off:
You have a brand new roof, with no concerns about soft spots or water damage.
When the roofers remove the shingles, they are able to inspect the structure of your roof and make sure everything is in good condition.
Less future costs. No need for a 2 layer tear-off.  (Utah only allows for 2 layers)
A new roof adds value to your home.
Things to Consider:
A new roof can be very expensive and might not be in your budget at this time. For a free quote, call us today or fill out our online form. We can help you decide which option is best!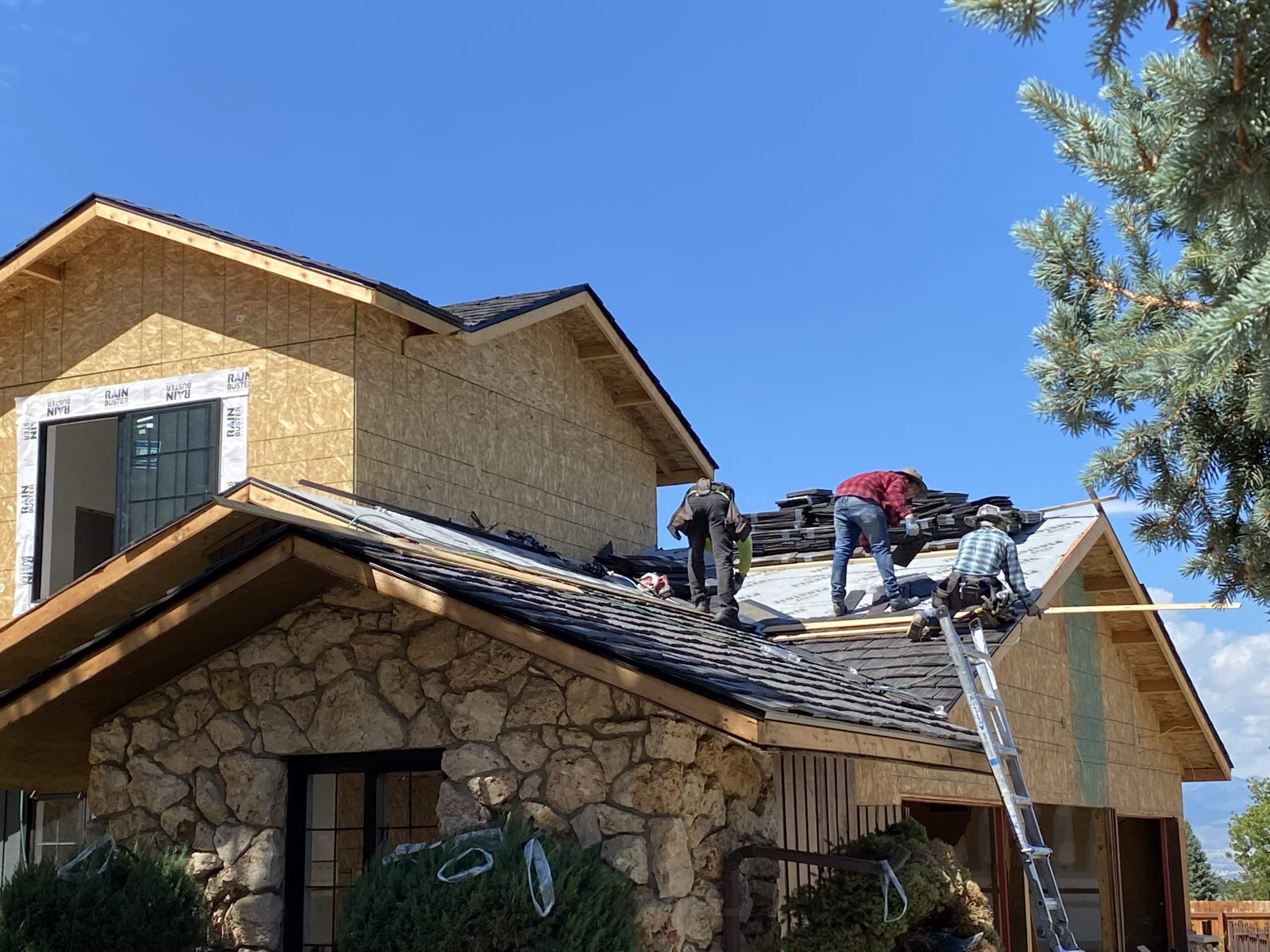 Re-Roof Salt Lake
This approach allows the roofer to come in and shingle over your already existing roof. It is important to remember this process can only be done once. If you have re-roofed in the past, it is not an option, and you will need to do a tear-off.
Benefits of Re-Roofing:
Less expensive than a new roof.
It does not require as much time to replace a new roof.
Things to Consider:
Adds weight to an existing roof. This may only be a problem if you are concerned about the structural integrity of your existing roof.
Harder to find a leak. Without removing the shingles, it's difficult to discover an existing small problem. Covering that problem might lead to a larger issue. Also, if you do notice a leak – it is harder to find the source when you have to search through two layers of shingles.
You will have to take 2  layers off next time.
In some cases, it may be better to replace the whole thing, rather than fix a shingle or two. At Heaton Bros. Roofing we use the best materials and planning – so let one of our experts evaluate your existing surface and discuss the best solution for your situation!
Roof Replacement Salt Lake
If it has been a while since your roof was installed and you are constantly getting it repaired, it may be time for a roof replacement. While this can be an expensive project, your roof is what protects your home, so you'll want to make sure you get it done right.
It can be hard to know when it's time for a new roof. When it comes time to make a decision, rely on Heaton Bros. Roofing for help. With over 60 years of roofing experience, we're able to give expert advice and hopefully, make the decision-making process a little easier for you.  Our roofing specialists will make sure you understand all your options so you can make an educated decision. Give us a call at 801-261-4003 or request a free estimate today!  When it comes to residential roofing – Heaton Bros. Roofing provides the best roofing solutions!
"I have used this business several times, and they always do a great job and get it done quickly. Their pricing is always fair! Great people to work with!"